Goshen Village
1544 Paoli Pike
West Chester, PA 19380
(610) 696-7066
Premier blog
Posts for tag: tooth decay
By Premier Dentistry
October 16, 2011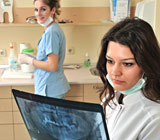 Because our main goal is to help you maintain optimal oral health, we use the latest proven technologies, techniques, and treatments to ensure we achieve them. One tool, radiographs or x-ray pictures, has been around for a long time with an inordinate amount of scientific research backing up both its safety and value. Here's a brief summary of why.
X-rays are a form of electromagnetic radiation just like natural daylight, except that they can easily penetrate soft bodily tissues, such as skin and muscles, without causing any harm if used properly. And as you may have guessed, we use them to examine what we can't see with the naked eye. For example, they enable us to see inside tooth structure, bones, and joints of the jaws. This ability makes x-rays a critical tool that we rely upon to monitor your oral health.
How often you need x-rays really depends upon your individual health needs and often is different from family member to family member given their age and oral health. During adolescence, we may need to take x-rays more often, so we can closely monitor the development of the teeth and jaw to check for normal growth and abnormalities, which can be corrected with early diagnosis. We may also need to use x-rays to diagnose trauma if you or any family member has experienced injury or disease. This will enable us to ensure the correct treatment is given and, in fact, is working and that there are no other related concerns.
Today's ultra-sensitive technology uses extremely low dosage x-rays and ensures early diagnosis and monitoring of your oral and dental health in safety and with confidence.
Learn more about the safety of x-rays by reading the Dear Doctor magazine article "X-ray Frequency And Safety." If you need to schedule an appointment, contact us today.
By Premier Dentistry
October 02, 2011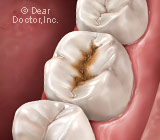 While some people associate the need for root canal treatment with an injury or trauma to a tooth (which is a valid cause), it can also most commonly be caused by tooth decay that is left untreated. This is the reason why we have put together this brief guide to explain the three common stages of tooth decay that lead up to the need for a root canal.
Stage 1: During this stage, decay begins to form in the tiny grooves on the biting surface of a tooth or where the teeth contact each other. The result is loss of the surface enamel of the tooth.
Stage 2: Left untreated, the disease progresses through the enamel and into the dentin, which forms the body of the tooth. Once in the dentin, it progresses more rapidly until it reaches the pulp — the living tissue within the root canals of the tooth. The decay infects the pulp tissues, which contain the nerves of the teeth, causing pain. The end result of inflammation and infection of the pulp is that it dies.
Stage 3: As the nerve dies an infection results, which causes pain and swelling. For some people who do not regularly visit our office, this may be the first physical sign that they have a problem. But all is not lost, a successful root canal treatment, whereby the infected pulpal tissue is removed and the root canals are cleaned and sealed will not only relieve the pain, but save your tooth. So the good news is that once a tooth has had the appropriate endodontic treatment ("endo" – inside; "dont" – tooth) followed by a proper restoration, the tooth can last as long as your other teeth. The key is to take proper care of your teeth, have routine cleanings, and visit our office as soon as you feel you have a problem with a tooth.
If you are having pain or symptoms from a tooth or teeth, check it out with us — you may or may not need a root canal treatment. Contact our office to schedule an appointment and find out. Don't wait until it's too late. And to learn more about the signs, symptoms, and treatments for a root canal, read the article "I'd Rather Have A Root Canal...."
By Premier Dentistry
August 14, 2011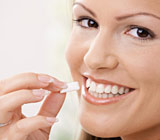 Can chewing gum prevent cavities? Yes! It can if the gum is sweetened with xylitol.
What is xylitol?
Xylitol is a type of "sugar alcohol," similar to sorbitol and mannitol, sugar replacements that are used in many low calorie foods. Xylitol occurs naturally in many fruits and vegetables and is obtained from the bark of birch trees, coconut shells and cottonseed hulls. It looks and tastes like sugar and is a diabetic-safe, low-calorie carbohydrate.
How does xylitol stop cavity formation?
Decay starts when certain bacteria break down sucrose (regular table sugar) and produce acids that dissolve the minerals in the enamel, the outer protective layer of your teeth. When the decay-causing bacteria try to consume xylitol, they are unable to break it down, and instead they begin to starve.
A normal mouth contains a large population of bacteria, and it is better for your teeth to have more "good" bacteria of the kind that do not cause cavities. Xylitol also stops your saliva from becoming acidic, so your mouth becomes a better environment for the "good" bacteria.
Chewing xylitol gum also increases your flow of saliva. Saliva contains calcium and fluoride and helps give these minerals back to your teeth (re-mineralization), undoing some of the effects of the cavity-causing bacteria. This makes chewing xylitol gum a particularly good solution for people who suffer from dry mouth.
How much xylitol do you need to prevent cavities?
We recommend that you chew or suck on two pieces of xylitol gum or two pieces of xylitol candy for five minutes following meals or snacks, four times daily — if you are at moderate to extreme risk for cavities. The target dose of xylitol is 6 to 10 grams (one or two teaspoons) spread throughout the day. Prolonged gum chewing is not advised, so most xylitol-sweetened products contain flavor that only lasts a short time to discourage excessive chewing. The only side effect of too much xylitol ingestion is that it may have a mild laxative effect.
I don't like chewing gum. Is there another way to get xylitol?
People who don't like to chew gum have the option of using xylitol in mints, candies, mouthwash, toothpaste, or mouth sprays. For these individuals, a minimum dose is 5 to 6 grams (one teaspoon) three times per day.
So now you can add xylitol to the list of ways to fight cavities: daily brushing and flossing, and regular professional cleanings — and chewing xylitol gum.
Contact us today to schedule an appointment to discuss your questions about xylitol and other methods of preventing tooth decay. You can also learn more by reading the Dear Doctor magazine article "Xylitol in Chewing Gum."
Archive:
2015
2014
2013
2012
2011
2010