Goshen Village
1544 Paoli Pike
West Chester, PA 19380
(610) 696-7066
Premier blog
Posts for tag: wedding day smiles
By Premier Dentistry
June 26, 2011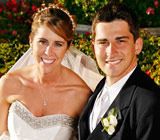 Invitations, dresses, the cake, the photographer: there's so much to think about when planning your wedding. And remember to plan for one more thing, your smile. Your wedding photographs will record the magic of your wedding day forever, so you'll want your smile to look radiant. Bonus: you'll be providing for a lifetime of good oral health.
Start planning as far ahead as possible. We can help you select from the variety of treatments, therapies and procedures that can enhance your smile on that special day. Together, we'll assess your starting point, decide what needs to be changed, and create a plan of action. Remember that the bigger the changes you want to make, the longer they are likely to take.
Plan the indicated amount of time before your wedding for the following:
Several months to three years: Orthodontics
From minor movement using clear aligners to full braces to correct a bad bite, this treatment allows us to accurately and precisely move teeth for better appearance and function. The process can seem like magic.
Six months to a year: Dental Implants
Implants are natural looking, functional stand-alone tooth replacement systems. They take planning and time. An implant consists of a root replacement that permanently joins to the bone and to which a crown is attached.
Two to four visits: Periodontal Plastic Surgery
Consult with us to find out your needs. Today, surgical techniques can alter your gum tissues and their relationship to the teeth, improving the appearance of your smile.
Multiple visits over one to four months: Crowns and Bridges
A crown or "cap" is generally required when a tooth has been ravaged by decay or trauma. A crown can also be used to improve tooth color and shape. Missing teeth can be replaced by bridges, which span the space created by a missing tooth. Bridges do require crowns on the adjacent teeth to which the bridge is attached.
At least three months: Veneers
Porcelain veneers are bonded directly to the enamel to change the shape and color of darkened or unsightly teeth. Usually, a small amount of enamel must be removed to make room for the veneers and for them to work their magic.
At least two months ahead of your wedding day: Bonding
You can replace anything from small chips on your front teeth to broken discolored old fillings with the latest tooth-colored bonding composite resin materials. These procedures, generally done in one visit, provide life-like restorations that become part of the teeth and look very natural.
Allow for one or two office appointments: Whitening
A professional "in office" tooth bleaching procedure is quicker and more predictable than an "at-home" kit, which may brighten your smile by several shades, but requires months.
Schedule well ahead of your wedding date: Dental Cleanings
Remove unwanted stains and freshen your breath, so you look and feel your best on the big day. You may need more than one cleaning, depending on how much stain and tartar there is and how long it has been since your last cleaning.
We can make sure that your wedding day smile makes you look and feel great, not just for those treasured photos, but for years to come. For many of these procedures, results can last a lifetime. Contact us today to schedule an appointment to prepare for your best wedding smile. For more information read the Dear Doctor magazine article "Wedding Day Smiles."
By Premier Dentistry
May 22, 2011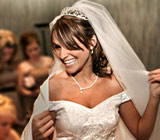 Of major importance in all wedding day plans is to ensure that you have your special day captured on film. And it is that fact that influences most brides and grooms to take a long and hard look in the mirror to observe their smiles. Not only do wedding dates motivate many brides and grooms to address concerns regarding their smile, it also serves as the perfect time for their parents to pursue their smile makeover dreams so that they too feel good about themselves in your wedding photos.
A proper smile makeover should have a two-fold design plan that ensures you obtain optimal functionality and oral health while creating the cosmetic look you want. Starting with the basics, a thorough dental cleaning is the least expensive way to remove stains and freshen both your smile and breath. We will also use this consultation to learn about your concerns, goals, expectations, and wedding day timeline to create the action plan for future treatments in reaching your smile makeover goals. You may also want to discuss whitening your teeth during your appointment, as whitening teeth is an effective way to brighten your smile a few shades in as few as 1 to 2 appointments plus whitening while at home.
If your smile makeover is a bit more challenging, relax. There are a wide variety of tools and techniques available that include bonding, veneers, crowns, bridges, and dental implants for restoring your smile. Or we may work closely with a specialist such as an orthodontist to straighten your teeth or a periodontist for periodontal plastic surgery that can alter your gum tissues and their relationship with your teeth. The most important tip to remember is to schedule your first dental appointment soon after you become engaged so that you have plenty of time prior to the big day to attain your picture perfect wedding day smile.
Want to learn more?
Contact us today to discuss your smile makeover questions or to schedule an appointment. You can also learn more by reading the Dear Doctor article, "Planning Your Wedding Day Smile."
By Premier Dentistry
April 04, 2011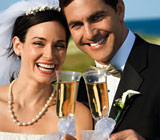 In a recent online poll conducted by Dear Doctor, the premier oral healthcare resource for consumers, 77% of those polled planned on visiting their dentist prior to their wedding. For some, this includes a thorough cleaning to remove stains and freshen both their smile and breath. However, a growing number of brides, grooms, and parents of the couple are seeking cosmetic dentistry or more specifically, a smile makeover, to transform their smile for their special day as well as their future.
If this describes your situation, take the first step towards the smile you have always wanted. To create your ideal smile, we will first meet with you to get to know you better and hear your concerns, goals, expectations and wedding day timeline. Bringing in photos or magazine images of smiles that you consider beautiful will help to ensure that we understand what you find attractive, as beauty can vary greatly from individual to individual. During this initial consultation, you will also learn about your smile makeover treatment options and what you could expect immediately prior, during and following each option.
Some subtle improvements we may consider are teeth whitening and bonding. Both of these options can take place in just a few office visits and produce very attractive results. Porcelain veneers and crowns can provide you with longer-term results that can last from 10 to 20 years. However, because they typically require 1 to 4 months advance notice, it is important to see us as soon as possible to ensure you have enough time before your special day. Another procedure that can play a dramatic role in your smile makeover is periodontal plastic surgery to improve and alter your gum tissues and their relationship to your teeth. For example, the appearance of "short" teeth can be corrected by lengthening them during a surgical procedure that has minor discomfort yet results in a life-long change.
Want to learn more?
Contact us today to discuss your smile makeover questions or to schedule an appointment. You can also learn more by reading the Dear Doctor article, "Planning Your Wedding Day Smile."
Archive:
2015
2014
2013
2012
2011
2010